The Sandman Will Keep You Awake - The Loop
Play Sound
Reinhard Dinger (ラインハルト・ディンガー, Rainharuto Dingā) is a former taxi driver and convicted serial killer. The Liebert twins stayed with him for a day or two after escaping from Eisler Memorial Hospital. In that short period, Johan was able to turn the man into a serial killer and used him to kill a person eleven years later.
Biography
Early life
Little is know about Dinger's life except that he worked as a taxi driver. It was in 1995 that his name was first tainted because of his alleged Rhine riverside murder. In 1996, he was associated with the Hofgarten murder and in 1997, he was accused of murdering an investment bank employee. He also was suspected for killing a passenger in the Gunther Forest Park.     
Meeting the Liebert twins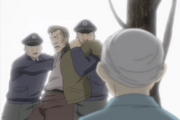 Sometime after the Liebert twins escaped from the Eisler Memorial Hospital, Dinger met with them after he beat a man who was walking his dog and kicked him. Dinger attacked the man and the police caught him, but Johan explained the police that Dinger is innocent because the abuser had attacked him first, saving him from potential jail time. Out of gratitude, Dinger offers to drive Johan and Anna to their home, but, after discovering they have no home, allows the two to stay at his apartment for a couple of days. Johan, Anna, and Dinger watch the news while eating dinner. When Dinger mutters to himself about how depraved the world is and how "the scum should all die," Johan agrees with his notion, stating, "We don't need... those people," a comment that marks the start of Dinger's career as a murderer.
Encounter with Inspector Weißbach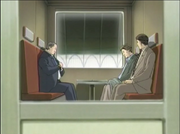 Several years later, Egon Weißbach, Inspector of the North Rhine-Westphalia police, requested Dinger's transfer to Düsseldorf as he was the main suspect in several murders that occurred in the Düsseldorf area. During the trip by train, Weißbach and his partner interrogated him about his victims. Weißbach was surprised by Dinger's ideas about morality and why he killed his victims. Dinger says that, while working as a taxi driver, he killed a man who spat at him as he was getting out of the car, a couple who started having sex in the backseat, a young alcoholic, a prostitute who tried to pay her fare with sex and an old woman who insulted everyone.
Weißbach then asks him about the murder of Fritz Overt, a man who worked as a bank employee and was about to reveal information that would affect the company. Later, on another interrogatory with Inspector Weißbach and Rudy Gillen, Dinger reveals that he was asked by a young man (who both Weißbach and Gillen assume to be Johan) to kill Overt by writing his name in a sandbox in a park in Griesheim, a suburb of Frankfurt.